Life in the fast lane: It's never too early (or too late) to prioritize your goals
When you first meet Justin Simpson, his youth – as a CEO in his mid-30s – may catch you by surprise. But get to know him and you quickly realize his success as a young professional is eclipsed by his measured thoughtfulness and intentionality, backed by volumes of adventures in the world of fast cars.
For this client story, we spoke with Justin about his passion for the world of motorsports, first ignited at an oval track in Central Oregon because he "wanted to pass people," and currently on track as the leader of DirtFish, the most prestigious rally school in North America and a rapidly growing brand in the sport of rally racing.
With the help of CWM President Shilo Lockett, we also connected on how we tend to think about money in our 20s and 30s and understanding how to envision a finish line down the road. As Justin says, "It's never too late to get started."
Justin, DirtFish has a really distinctive business model. Can you describe DirtFish for us?
When someone says, "What's DirtFish?" I always ask first, "Well, do you know what rallying is?" And if the answer is no, I say, "Well, rallying is a form of motorsport where cars are driving at high speeds through trees in the woods, on loose surfaces like gravel, racing against time." Pretty cool.
DirtFish is a brand that supports the sport of rallying. We have a school that teaches people how to drive rally cars in Snoqualmie, Washington, just outside of Seattle. You can actually come out and drive a rally car in one of our driving programs – everything from programs that are two hours long up to three days long. We also have a media company that covers the sport of rallying around the world, and we're really focused on connecting the motorsports community through the sport of rallying.
Our brand is built with the support of our amazing team of people that produce these experiences. Over 10 years, we've worked with about 20,000 people, teaching them how to drive a rally car, whether they've never driven a stick shift before or they're one of the best drivers in the world. Even folks like Jensen Button, a Formula One world champion, come to DirtFish to improve their chops for off-road racing.

That's quite a spectrum of talent! How do your instructors keep up with all of those needs and experience levels?
Our team comes from a variety of backgrounds. We have instructors who have competed in rallying for their whole lives and know the sport top to bottom. Some come from sports car racing or other disciplines and have converted into the rally world, and others are incredibly great communicators and teachers that also have good driving chops. Ultimately the best instructor is a combination of the three.
In addition to our instructors, we have a full team in our shop that maintains our vehicle fleet. From detailing to service, every car is touched every single day. Our course crew maintains all our roads, managing water levels and grooming the roads to make sure it's nice and smooth for the drivers on a daily basis.
And then our administrative team, sales, marketing, facilities, accounting, and media team – all of us serve a purpose to help promote DirtFish. It's a great crew, with a lot of passion.

You have a special four-legged companion in your office too, right?
Yes, my dog, Rocket -- he's a 14-year-old German short-haired pointer. We have a dog-friendly office here at DirtFish. I've had him since he was a baby and he's been my sidekick ever since. He lives a good dog life, playing with his dog friends every day on the DirtFish lot. DirtFish, rallying, and dogs just go hand-in-hand.

Tell us about the DirtFish community. Where do your community members come from, and who are you able to bring into the fold?
The community members at the core of DirtFish, our inner circle, are our customers who come here for our lengthier rally programs. We know them more intimately than we know anyone else in our community, because we get to spend multiple days with them, one to one.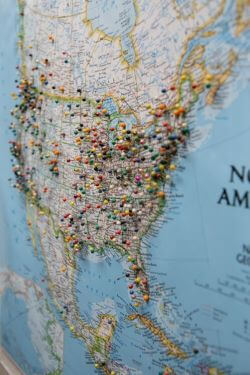 Those folks come from all around the world. In our office, we have this cork board with a map of the globe on it, and we add a pin to represent everyone's hometown. When you look at it, it's quite powerful because we've had people from every part of the world come to Seattle and participate in one of our programs. All seven continents, including Antarctica.
They are from all walks of life. Some find us because they're interested in the Subaru rally cars we drive, others grew up rallying or watching rally cars and they want to have that experience firsthand with us, and others are just interested in improving their car control skills and know nothing about rally. We even have parents who want their kids to learn better car control skills before they're out driving. We also host team-building events where companies come out and do a private program with their group, pushing them to a limit that they're not used to and figuring out how they adapt and bond together.
How does the media side of DirtFish fit in?
Our media company, which we launched in 2020, covers rallying all around the globe – including the World Rally Championship, which ranks as one of the top three motorsport events in the world, along with Formula One and the World Endurance Championship.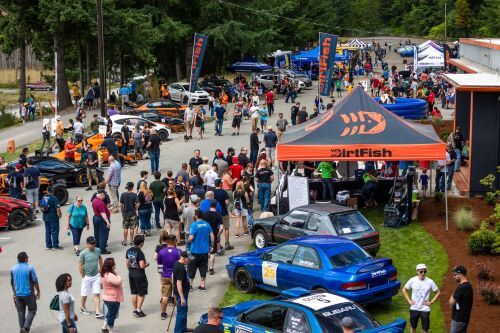 By promoting and covering that event on our website and through our content channels, we reach millions of people a year and help make rallying more accessible. It is incredibly challenging to find consistent sources of information about rallying; depending on where you live, you might not be able to find information on your local, regional or national rallies, but you could find information on the World Rally Championship. Our goal is to connect fans and events through our platform.
Whether it's a small regional rally in Oregon with 20 first-time competitors or a competition for the world title with the best of the best, we want to cover it.
I'm excited about continuing to optimize and grow our community – by creating amazing live experiences for our customers or engaging through our videos and social content. We love it when someone can experience rallying for the first time through a social post and spark questions like, "Oh, what is this? What is DirtFish?" And next they're learning more about rally, and soon after that driving a rally care with us.
Shilo: When we've talked, Justin, is that it seems like DirtFish is trying to be the group that pulls the sport of rally together and then acts as the hub to disseminate and share it, which is really cool.
Justin: Totally. To me, success would be making DirtFish synonymous with rallying. When someone talks about rallying, they always talk about DirtFish, and vice versa.

You also directly support rally events through sponsorships and even by hosting at your facility in Snoqualmie, is that right?
Yes we do. So for example, one of the key races that we sponsor is the Olympus Rally, which is one of nine national events that make up the American Rally Association presented by DirtFish National Championship calendar. Olympus is special because it has a lot of historical importance being the only U.S. rally to host the World Rally Championship in America, and it also takes place here in Washington state. This is an amazing tribute to the great work the DirtFish team has done over the years expanding the sport.
How did you originally become interested in cars and motorsports?
I grew up in Bend, Oregon, with my younger sister and parents. Our family moved there in '90 – there were only 13,000 people in the whole town at that time, it was a logging, outdoor town.
My mom is a teacher. Which meant she had summers off and could be home with us, which was awesome. My dad had a few different careers – real estate, driving heavy equipment in the construction industry. Then he went into the auto wrecking business; he sold used auto parts and had a towing company. My dad's passion and interest in cars, being around them all the time when I was young, is what really got me into cars and racing.
Shilo: Justin, didn't you rebuild a car with your dad when you were a kid?
Justin: Yes, we built multiple cars, actually. It's a lot of fun. One thing that I appreciate about my dad is how much he gave me in terms of mechanical aptitude and understanding of cars. It's one thing that's easy to take for granted, because I grew up with it and learned so much through osmosis; being out in the shop and helping with things and wrenching on stuff. And then eventually building cars and building engines and racing and learning to do body work and painting. There's just so much to it that is in trade skills.
I still have a 1965 Mustang that I built with my dad in high school. It's a really, really cool car and I will have it for forever.

What led you from working on cars to racing them?
When I was around 10 years old, my dad said, "Okay, you're interested in cars, you want to go racing?" So he took me to the closest race track in Madras, Oregon, which had a drag strip and a dirt oval track. My dad took me to both those and asked, all right, "Which one do you like better?" I told him, "I want to pass people." So we did the oval track racing.
And that was it. I learned really fast and had no fear when I was younger. My dad sponsored a car, and then we got our own cars, and it just grew to the point where I was traveling around the country and racing in these higher level, national series. Racing has been a part of my life for a long time.
How did your amateur career transition to a professional one?
When I was around 20, I participated in this competition in North Carolina that essentially offered a NASCAR drive in a lower-level racing series called ARCA. I didn't win the competition, but when I finished, I had all these contacts in a motorsport world built around delivering experiences for people who want to learn racing and learn from racing drivers. Through those connections, I ended up moving to North Carolina and worked for one of those teams full-time.
Ultimately, that's what we do here at DirtFish – we provide experiences for people to drive rally cars who don't necessarily want to go out and rally race on their own, but they want to have the experience.
What led you from North Carolina to DirtFish?
Well, the first step was making that commitment to try to create a career in the automotive space – and so initially I worked for Richard Petty, who is a seven-time NASCAR champion and a really iconic figure in the racing world. The Petty family is just amazing and incredibly supportive in cultivating young talent.
The next big step was moving into the agency space with a whole world of automotive brands working to connect and curate experiences around their vehicles for their customer base. At this point in my career, I really started being stimulated by the creative design around building brands and finding ways to connect customers with products that they care about.
In the agency space, I started off in ride-and-drive only stuff, which involves activations at big events – basically, we get a customer to sit their butt in a car and drive or ride in it. For example, we did drifting rides at NASCAR events in high-performance street cars. When Maserati wanted to bring an all-wheel drive platform to the United States, I was a part of the brand launch for that. We did a whole public relations kickoff in Aspen, Colorado, driving cars in the snow, creating content around it and hosting a month-long ride-and-drive program at all the hotel resorts to invite people to drive Maseratis and create the buzz around the whole thing.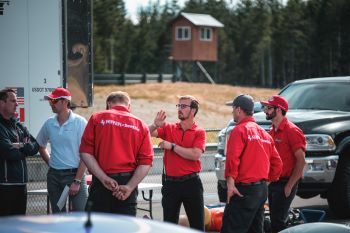 At every step, I was learning about new worlds that I just didn't know existed before. Then when I got the opportunity to work for Ferrari, I realized that I was going to work for the most known automotive brand in the world, and one of the most known brands in the world period. Everyone knows what a Ferrari is. After 10 years of running motorsports programs, I thought, "Here I am – I've made it. I've reached the top of my automotive career."
When I decided to finally leave Ferrari, after years working for the best auto brand in the world, my mindset shifted and I wanted to focus on brands and projects that I could really influence and build. Younger, lesser know brands that had great products or services and could had the potential for massive growth. This took me to Microsoft working on a project called the Forza Racing Championship, a global eSports racing series. This was super cool because it was something new – figuring out how to translate electronic racing to the real-world audience.
While doing that, I co-founded an automotive-centric agency doing boutique events for luxury brands. This took off enough to do it full time until I learned about the opportunity at DirtFish. I knew of the brand – we had done photo shoots out here – and was intrigued by opportunities to help build it.
What about DirtFish made you feel like this was the right move?
Before I came on board, DirtFish had developed world-class rally driving programs. Making the decision to come to DirtFish was focused on taking what was already in place and translating it into something bigger.
Early on, I really focused on the opportunity to expand our community. We curate all these amazing experiences for 3,000 people or so per year driving rally cars, but over the past couple years with the launch of our media platforms and promoting the American Rally Association, we're reaching millions of people in our community and allowing them to engage in rallying through DirtFish. So that's definitely what I feel like I've had an opportunity to make an impression on while being here, which is, "Let's take this amazing thing and then let's just amplify it and grow it."

As a CEO in your mid-30s, it's clear that you take a very intentional, thoughtful approach to what you want to accomplish in your professional life. What about outside of work -- what does the idea of living richly mean to you?
One of my goals is when I turn 40, I want to take six months off and basically do a sabbatical. And that doesn't necessarily mean change jobs or do anything different there, it's more about having the flexibility to take the time and to go and adventure and reflect on life so far and what I want from life going forward and all of those things.
That is part of my live richly mindset, and part of my motivation in really trying to save and focus on what is essentially five years away for me right now.
How has that translated to your approach to setting your own financial goals?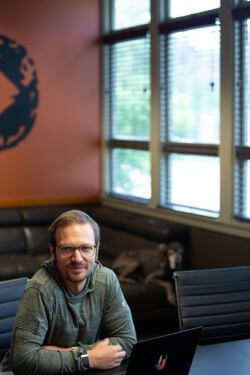 I want to have the ability to not make decisions based on need, but based on intention and long-term goals. It's more of a steady climb than a roller coaster fluctuation. So I think that's one thing about living richly to me, having stability – and in that stability, having the opportunity to choose different paths to make decisions in a very structured way, instead of reacting to what may be happening on a weekly or monthly basis.
I also think about what I want to be able to share with my family over my lifetime. It's not just about myself. Thinking about others carries a lot of weight for me, and really helped me get serious about being intentional.
Shilo: Justin, you've said this and I've heard this from other people too, "I feel like I'm getting started late." What to you would've been the ideal time?
Justin: Yeah, that's a great question – because frankly, I do feel like I started too late, but then I remind myself I'm going to live for a long time and things will work out.
I think I probably would've felt really good about my situation if I came into my professional career in my early twenties and said, "Okay, I'm going to start stashing away a couple hundred bucks a month," and then kept going from there.
But for me, the learning curve was not necessarily the timing, but more the frustration around having to learn on my own and not really having the knowledge or the education to know how important it is to set yourself up to make your money work for you, instead of just keep working for your money, right?
When you think about expanding your financial literacy, or being able to visualize your ideals and the path to reach them, were there any "aha" moments or things you've learned that really stuck out for you?
I think most of the "aha" moments are in the failures. There's nothing like racking up too much credit card debt and not being able to pay it off. Part of it is recognizing that I didn't have the right education and understanding in my young adult life to know what to do with money. I was always great at bootstrapping and figuring out how to do side projects, but I was focused on saving $300 to buy a new bike or something like that. Not stashing it away for that $300 to become $30,000 over my lifetime.
Shilo: You've touched on so many great things there, but leaving a legacy was one of the pieces that I heard you say was a newer thing that entered your field of vision. Because it's easy to make income and take care of yourself, but how do you connect your financial goals with the intentionality of what you want to do with them? So often when we're in our twenties, we've worked to this whole point just to get a job, that was our entire life's objective to that moment.
Justin: Yeah, I think the real "aha" moment for me has been getting old enough to think about what I want to do beyond my working life. And I don't think that comes until you have a perspective that everything in life isn't just about working. There's more, whether it's connection with your family or what you want. For me, it's a lot about what I want to be able to give to others, not just to myself.
How much does communication impact a person's ability to get started earlier in life vs. later?
That's the frustration too, right? Because no one talks about money. I think it's getting better with younger generations, but talking about money is still not really socially accepted. And so how do you learn? If you don't learn from your parents and they don't teach it in school, and it's not socially acceptable to talk about it with your friends, what do you do? You just fail and try and figure it out.
For me, the best thing has been deciding, "This is bigger than just me, it's bigger than just a five-year plan or a 10-year plan. It's a lifetime thing." And now, it's no different than how I treat my health.
What would you say to someone else who wants to be more intentional about their finances but doesn't quite know how?
It's never too late to get started. I think not being afraid to have conversations and ask questions is probably the first thing that comes to mind, because it's really easy to let fear control your actions or your inaction, which leads to not doing anything or putting it off to next week or next year.
Also, people don't understand how accessible CWM is. It's not super difficult to just get some guidance from someone who does this for a living instead of trying to figure it all out yourself and making a bunch of mistakes. Get help, so you can focus on what you do best, and then really be intentional about building that routine.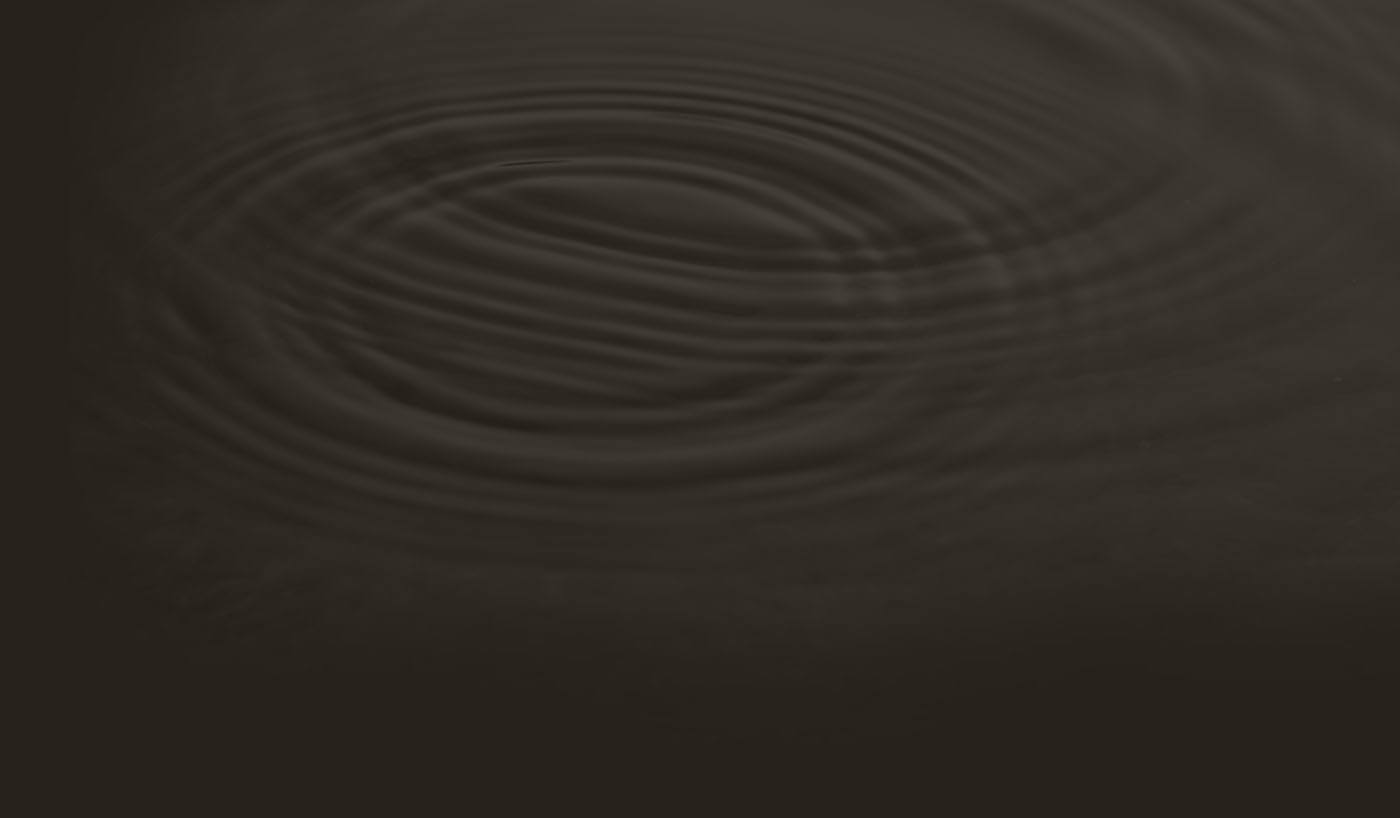 What's Your Why?
We'd love to hear your ideas of living richly and the why behind your goals. Schedule a complimentary, introductory phone call with our team.