PAWS breaks ground for new 25-acre campus, which will house dog adoption suite built in honor of CWM's Linda McCormack
Earlier this year, we participated in the groundbreaking of the new PAWS campus in Snohomish, which will expand the organization's capacity to care for dogs, cats and wild animals. It will also be home to a dog adoption suite, built in memory of our beloved Linda McCormack who passed away in 2018.

It's hard to believe that just a few months ago, CWM team members were gathered in Snohomish with dozens of fellow animal lovers to celebrate the groundbreaking of PAWS' new campus. We can all agree that much has changed since that sunny mid-February afternoon, and the CWM team is grateful that we had the opportunity to participate in this milestone moment for an organization so close to our hearts.
PAWS is a phenomenal nonprofit made up of two companion animal shelters and the region's only comprehensive wildlife rehabilitation center. Together, these facilities care for more than 8,000 dogs, cats, and wild animals each year. However, the organization's current facilities were built more than 40 years ago and can no longer accommodate the scope and scale of companion animal, wildlife and humane education programs that this region needs.
The new 25-acre campus in Snohomish will serve as a refuge for animals in need of care, a destination for people who love animals, and a gathering place where community members and industry professionals can learn about animal issues and resources.
The groundbreaking event demonstrated first-hand the impact the new campus will have for companion animals and wildlife in our community and beyond. The added acreage for wild animal rehabilitation and an expanded surgery suite will increase the level of care and resources available to nearly 200 species of wildlife PAWS serves. In addition, the new PAWS adoption facility will support increased volume of spay and neuter services for low-income pet owners; include a separate room for dogs and cats recovering from illnesses where they can safely rest; and overall, provide a much better experience for dogs and cats to help them get healthy and ready for their forever homes more quickly.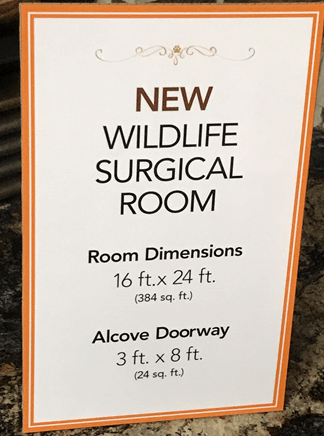 PAWS' new wildlife surgical room will provide significantly more space for veterinary surgeons to care for wildlife in need, offering a more comfortable and functional environment for both humans and animals.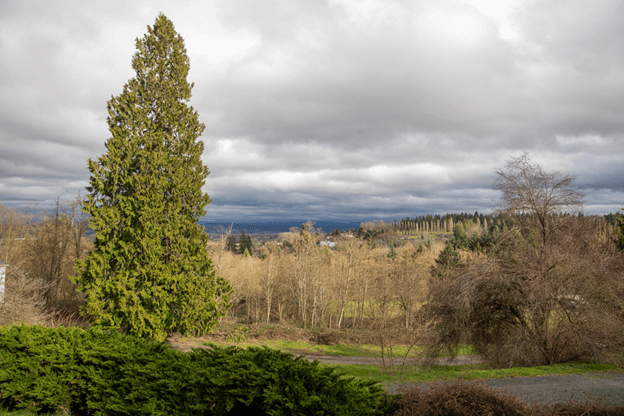 The beautiful view from PAWS' future wildlife surgical suite.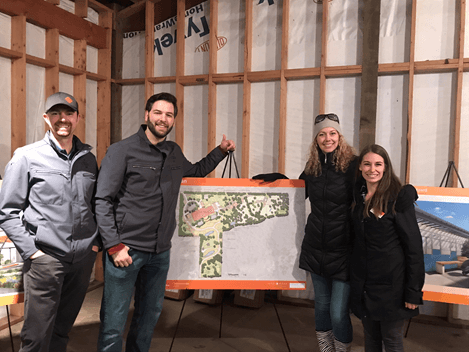 CWM's Brian Lockett, Morgan Arford and Shilo Lockett review the blueprint for PAWS' new campus with Andi Price, PAWS' capital campaign officer.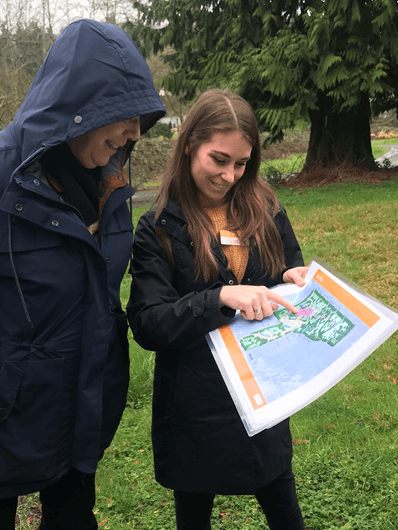 Andi Price demonstrates to CWM's Sue Thorning the planned location for Linda's adoption suite.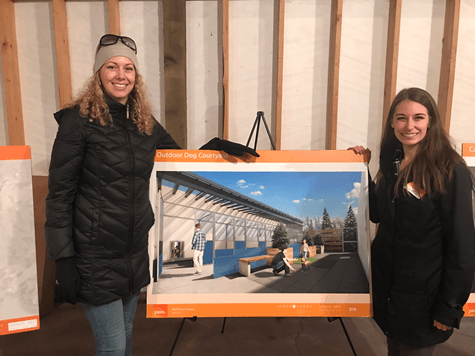 Shilo Lockett and Andi Price pose with the digital renderings for Linda's indoor-outdoor adoption suite.
As many of you know, we have been honoring the memory of Linda McCormack, a beloved member of the CWM family who lost her battle against cancer in 2018, by partnering with PAWS to raise $100,000 in her name.
In particular, the funds we raise will contribute to the construction of an innovative dog adoption suite in Linda's name, as part of PAWS' new facility. Linda's adoption suite will include both indoor and outdoor visitation spaces, which means rescued dogs will be able to roam freely and comfortably, without being isolated in kennels while they are interacting with prospective families. This design will offer a more calming and comfortable environment for dogs who need homes, and provide both human and canine companions the space for better-quality interactions, making it easier to find the right connection.
We know Linda would be thrilled with this new adoption suite; she was a huge advocate for PAWS and contributed to its mission in a variety of ways – from fostering lost or injured animals and donating funds, to participating in the annual PAWSwalk.
And that's why CWM is proud to report that we have made excellent progress towards our goal of $100,000, with more than $41,000 already raised. Much of this success is thanks to the generosity and support of CWM clients and team members; we couldn't have done this without you and we thank you from the bottom of our hearts for your help so far.
If you would like to help with a donation toward Linda's adoption suite and support orphaned pets and wildlife through the construction of this wonderful facility, please talk to a member of the CWM team or donate directly here. Whether you're in a position to donate today or six months from now, we are grateful for every contribution that brings us one step closer to making Linda's dream a reality.
Below, CWM team members, along with family and friends, participate in the special groundbreaking ceremony for PAWS' new campus.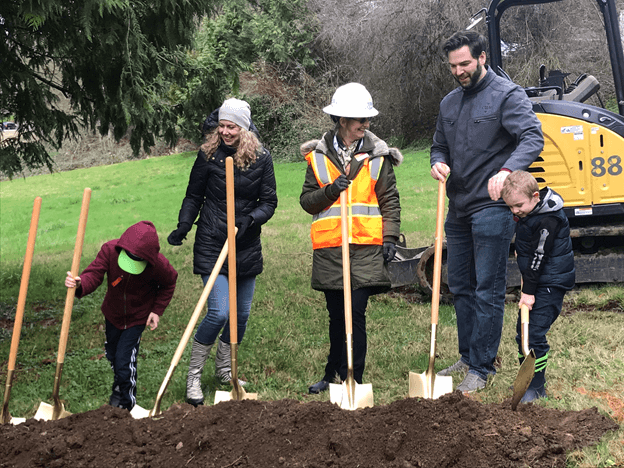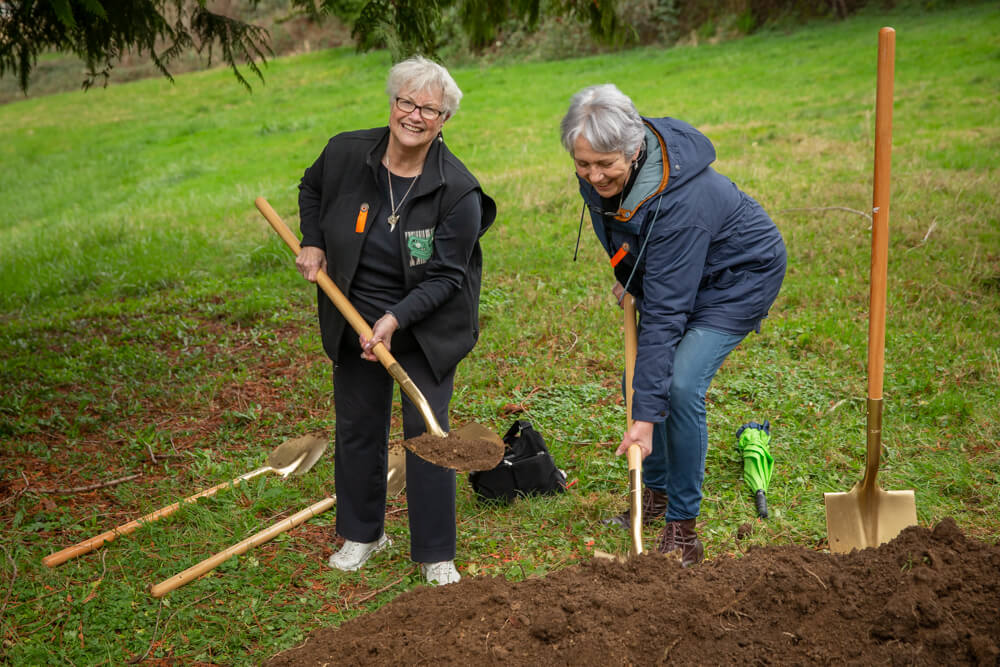 Plan Intentionally
Schedule a complimentary, no-pressure phone call with a CWM financial advisor to learn if our breadth of consulting services and purpose-driven approach aligns with your needs.