Behind the scenes at CWM you are likely to find us sharing stories and photos of our beloved pets. They even occasionally pop-up on a Zoom call when we work from home.

For many of us on the Comprehensive Wealth Management team, our pets help us to live richly, and not just because of their loving companionship and the joy they bring to our homes. Pets are also close to every CWM member as we continue honoring Linda's legacy through our campaign for PAWS.
Earlier this year, we shared an update about the campaign as we reached $45,000 in donations. Now, generous members of the CWM community have already given a total of more than $52,000 toward our $100,00 fundraising goal! We are overjoyed and grateful for the generosity of everyone in our community, and we're especially excited to think of the impact this will have on so many furry friends.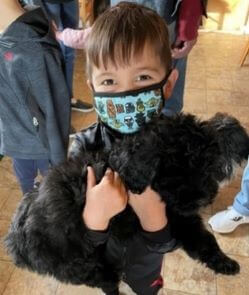 As we reflect on these joys, we wanted to share stories and photos from our CWM team's pets – some of which were adopted right from PAWS. You already know the CWM team, but have you met our pets? Get to know Freddie, Rebel, Harper, Emma, Murphy, Buster, Millie, Toby, Tunsi, Jackson, and Hero.

Meet Morgan Arford's Federico "Freddie" DeLuca Suarez, a one-year-old Portuguese Water Dog. His boundless energy makes him the perfect dog for a family with three young children. Wyatt and Keegan love to wrestle with Freddie and during Seahawks games they play "puppy football" (a combination of keep away and tag). "For a seasoned dog owner," says Morgan, "he is a great dog. My wife especially loves to cuddle him like a baby." Morgan's son Keegan (seen here with Freddie on the day the Arfords took him home) finds that Freddie makes the perfect pillow for watching TV. Not to be left out of playtime, Morgan's daughter Nalia loves to run around in circles with Freddie. It's hard to tell if Nalia is chasing Freddie or the other way around!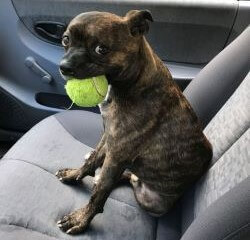 Molly Winney's rescue dog Rebel, specializes in sitting awkwardly and chasing critters off the lawn. His personal mantra is "ball is life" and one of the perks of living with Molly and her husband Mark, is that he gets to play ball every day. Most people mistake Rebel for a young puppy, but he's nearly eight years old! Nicknames include: Weedies, Skycrew, and Old Man Rivers. Rebel can most often be found not respecting personal space and cuddling with the nearest person.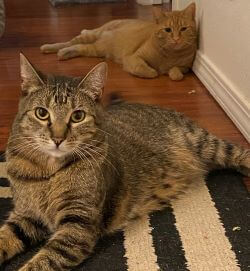 We also have Harper and Emma, two accidental friends to Luisa LaMagra (CWM's newest team member) by way of PetSmart. Harper was the only lucky kitten around when Luisa and her boyfriend stopped by to decompress after a day of apartment hunting. Despite the fact she wasn't allowed to have cats in her current apartment, Luisa snuck him in. One cat quickly becomes two when you think about how they need a friend, which is how Luisa met Emma after looking around shelters for months during the pandemic. "Just as I was about to give up, I literally had told myself that the PetSmart that I was about to go in would be the last — I walk in and see this tiny orange kitten. The PetSmart employee told me that they had just received her 10 minutes before I came in, so I took that as a sign, and she came home with us."
Brian Lockett and Shilo Lockett, partners in business and in life, have four rescues, two from PAWS: precocious feline Tunsi and part body builder/part canine Millie, as well as Toby (black lab mix) and Garfield incarnate, Jackson, from other rescue organizations.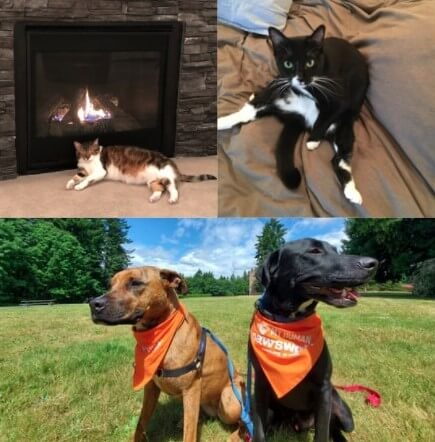 "Tunsi picked us when we went to PAWS in search of a kitty," shares Shilo. "We went during the holiday season only to find that many other families had the same idea. Everyone seemed either already spoken for or had been deemed inappropriate for a household with young kids. Just as we were turning to leave, this little paw sticks out from a small black tuxedo cat, almost invisible from her lower kennel in a back corner of the room, and softly starts playing with our then 4-year-old through the cage door. We waited for a visit in the adoption room (PAWS needs more of those) and when I picked her up for the first time, this tiny cat had a purr like a semi-truck and the softest fur you've ever felt. We had to take her home."
Jackson joined the family shortly after as a larger wrestling companion for Tunsi – his hobbies involve eating, staring at the laundry room door waiting to be fed, and waking his mom up early before the alarm to remind her that it's almost time for breakfast.
Brian spends most evenings running Millie and Toby, instant best friends and amazing family companions. Both dogs are from Houston originally, brought up from high-kill shelters in the South to find their forever homes.
"We couldn't have asked for better dogs," says Brian. "So many times, you hear of a stigma surrounding rescues, but we've never found that to be the case. Often, I think there's a sense of gratitude from these animals to have landed somewhere safe where they are fed and loved. Nothing beats coming home to a dog."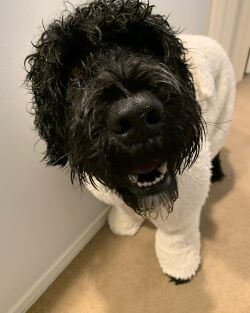 As empty nester's, Anna Doll and her husband Tony didn't plan on getting a dog so soon after their youngest went off to WSU, but fate intervened when Anna's sister Debbie (wife of Morgan) called to let them know Freddie's brother was also available for adoption. Even our pets are family here! Murphy came home with Anna and Tony one wintry afternoon and completely changed their lives. According to Anna, "He's filled our hearts with joy and our quiet home with limitless energy (and occasional shark attacks)."
Murphy is the first animal Anna has ever truly loved and this Christmas she plans on spoiling him with extra tough chew toys and his favorite collagen treats. When Murphy is not hanging out with his dad (who luckily for Murphy works from home), he likes to have adventures in the snow and meet other dogs at Puppy Class.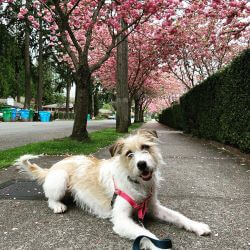 Kelsey Wingate's Buster takes his name to heart and can really "bust" things up (including accidentally giving Kelsey a black eye on Thanksgiving). The list of things he has eaten/destroyed goes on forever, but his greatest hits have been: his dad's record collection, Kelsey's yoga blocks and FitBit, too many dog beds to count, an armchair, the TV stand, an electrical cord, and the Internet. In an attempt to subvert the eating of things, Kelsey likes to take him on runs to burn off extra energy. His tail constantly expresses his joy and he often "sings" his happiness to the world.
Buster was a rescue Kelsey was lucky to adopt since Shilo had heard about a stray another family had found and couldn't keep. "Literally the day before we learned about Buster I had given up on ever finding a dog. It was summer 2020 and it was difficult to find an adoptable dog, let alone apply for one. Buster was a miracle for us." Though it took time, Buster has learned he's part of the family, and Kelsey's favorite time of day is their evening couch cuddles sharing a bowl of popcorn.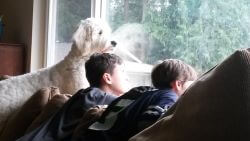 Hero, a 6-year-old Goldendoodle, takes center stage in Marc Knauss' household. The Knauss family wanted a dog that didn't shed and had a great temperament with a special needs child. One look in Hero's eyes and you know you've found a wonderful dog. This is a dog that actually smiles when he looks at you. When Hero is not spending time with his favorite people, he likes to escape the yard and go on adventures in the surrounding woods (we're thinking Hero is more of a Houdini). Oftentimes, these adventures include rolling in the mud and coming home stinky. Basically, a great day for a dog.
If you'd like to honor Linda and support a good cause, make your donation go further this December with a matching gift from CWM in support of the PAWS Campaign for Linda, up to $5,000. And remember to give some extra love to the pets in your life this holiday season.
Plan Intentionally
Schedule a complimentary, no-pressure phone call with a CWM financial advisor to learn if our breadth of consulting services and purpose-driven approach aligns with your needs.