Linda McCormack's PAWS Campaign Update
As we near the end of 2022, we're reflecting on what matters most: relationships, family, and investment in our community.

In 2018, our beloved coworker, friend and chosen auntie Linda McCormack lost her battle with cancer. In her memory, CWM launched a fundraising campaign honoring her lifelong love for animals with the goal of making a $100,000 donation to PAWS' (the Progressive Animal Welfare Society's) capital campaign.
Our entire world has shifted since that 2018 pledge, but our partnership with PAWS is stronger than ever. Thanks to the amazing support of the CWM community, we've raised almost $60,000 toward our goal of dedicating a new dog adoption suite in Linda's memory.

We recently connected with PAWS project leaders, who have persevered through many pandemic-related challenges, and are thrilled to report that the organization has nearly completed construction at its new 25-acre wildlife rehabilitation center in Snohomish. (Site tours are available on request by contacting Andi Price, PAWS' Director of Philanthropy, at (425) 772-8271.)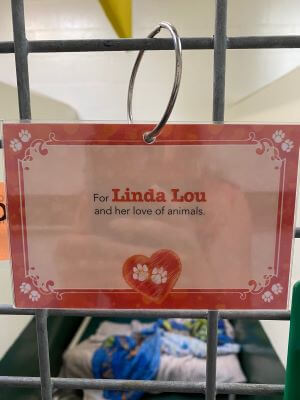 Once that facility is open, PAWS will focus on renovating its pet adoption center, which will remain in Lynnwood – a location that is accessible for thousands of families ready to welcome a new furry friend into their lives. While the timeline and location have evolved from our original vision, the dog adoption suite honoring Linda's memory will be made a reality as a quiet place for dogs and their new families to bond, play, and get to know one another. In the meantime, Linda's name adorns a kennel at the current PAWS adoption facility, and we've been told that a commemorative bench will shortly be installed on the grounds of the wildlife rehabilitation center. We greatly appreciate PAWS working with us to honor her memory until such time that the vision for her dog adoption suite can be realized!
The end of the year is a perfect time for charitable giving, and we'd be honored if you joined us in honoring Linda's memory with PAWS. For more information about PAWS' mission and impact here in the Northwest, read our interview with organization's CEO, Heidi Willis.
All donations should be made directly to PAWS either online or by mail:
Online
You can make a donation online via this secure donation link.
By Check

Make check payable to: PAWS
Memo Line: Linda McCormack Sponsorship
Mail To: Attn: Andi Anderson
PAWS
PO Box 1037
Lynnwood, WA 98046
The above is not a recommendation to contribute funds and no clients or friends are obligated to participate in any way. CWM and PAWS are unaffiliated entities.
Plan Intentionally
Schedule a complimentary, no-pressure phone call with a CWM financial advisor to learn if our breadth of consulting services and purpose-driven approach aligns with your needs.