I Know a Pro: Jacob Tate, Owner of Dreamscapes Landscape and Design
Sculpting new lifestyles from natural materials - and transforming vision into reality.

Jacob Tate, the owner of Dreamscapes Landscape and Design, knows a thing or two about turning visions into reality. Where some people see moving rocks and planting foliage, he sees space for homeowners to entertain, let the kids play, or maybe read near a tranquil water feature.
One thing is clear: Jacob knows that his work isn't just about altering an outdoor environment. It's about changing the way people use it, enriching their daily lives and lifestyle in the process.
When Shilo Lockett, president of Comprehensive Wealth Management, first heard Jacob's name as a referral from a client, she knew she didn't just need to update the retaining walls, plants and other features in her family's backyard. She wanted to fundamentally re-envision the way her family uses the space.
What she found in Jacob and the Dreamscapes team was a kindred perspective on aiming to first understand a client's goals and needs – in CWM parlance, their ideals for Living Richly – and then taking a very intentional approach to ensure that every step, every decision serves those objectives.
Shilo recently had the chance to sit down with Jacob and discuss his purpose-driven commitment to clients, close eye to detail, the importance of connecting with others, and how a truck and wheelbarrow can transform "nothing into something big and beautiful."
Jacob, what is Dreamscapes Landscape and Design, and why is it so special to you?
JT: When I launched this company back in 2007, I started out with nothing but a truck, a wheelbarrow, and a relentless determination to be a top-quality landscaper. I'm very much a perfectionist – if things aren't done right, I'll make them right. That was the attitude I had when I started and continue to have to this day.
We're a landscape construction company focused on providing quality, valuable professional services. I absolutely love interacting with the different people we work with and really enjoy transforming nothing into something big and beautiful.
We have two divisions and service a diverse range of areas – one in northern Puget Sound and one closer to Olympia and the surrounding regions. While we take on a wide range of projects and jobs, our clients are the reason we continue to stay in business. That's why it's so important that we engage them in the decisions we make and conversations we have.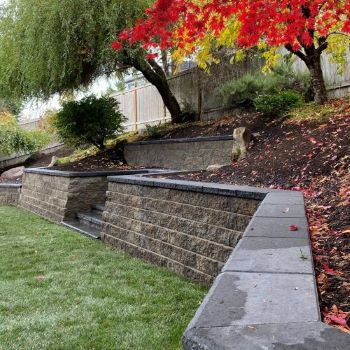 How does your attention to detail and "perfectionist" approach to landscaping play into your work?
JT: I never want to walk away from a project knowing a homeowner is going to feel like I didn't think of something. They hired me for a reason, and I understand it takes time to build trust – especially when they've had a bad experience with a contractor in the past. That's why I emphasize the importance of the small details, and I approach each project with that attitude and that perspective in mind.
SL: That's something I can speak to from personal experience. Before starting on our home project, Jacob explained how he gets called in to rescue homeowners' projects from bad contract work, which was certainly our case.
We could immediately tell how his team worked differently than folks who had been on our property in the past. The level of detail was outstanding, and his proactive communication and transparency were greatly appreciated. He would take the time to explain his reasoning behind certain options and his commitment to testing different, often better, solutions; much as we do at CWM for our clients in regard to their finances.
That type of transparency and consistent communication just builds so much confidence for a homeowner. It was apparent that Jacob cared just as much about the projects as we did, which is a quality you don't find very often.
JT: Right and a lot of that is just having the willingness to be open and to share. Homeowners will have a vision of what they want a project to look like, but sometimes I know that vision won't fit their long-term needs. So, I always try to act as a coach and guide for the homeowners, sharing my recommendations for how we can better suit their needs and turn their vision into a reality.
Jacob, when we first met, you came with these books of photos of projects that you had done before, with brands and materials manufacturers selecting your projects to be representative of their products. How did all that come about?
JT: From the outset, a goal of mine was to be featured in one of the magazine-style idea books that brands create to showcase their products. So, I talked to our representative at our masonry and hardscape supplier, who said they needed some really high-quality project photos to boost their publication. I took on a few projects for them, and I kid you not, probably about 90% of the projects featured in the company's next magazine were ours. That continued to grow, which gave us recognition from a lot of other big-name players in the industry. In fact, just this last year, we were recognized in the national catalog of a major paver manufacturer, which was a huge team accomplishment that I'm incredibly proud of.
SL: I love that intentionality, to make that a goal and go after it. And it's especially amazing because you're competing with every other landscaper out there who uses those products. What a fantastic achievement.
With these projects, you're doing so much more than just landscaping or moving around dirt. You're really impacting your clients' daily lives and the way they use those spaces. Can you talk a bit more about how you approach your work from the perspective of their lifestyle and daily experiences?
JT: The first thing we do is engage our client by starting conversations and asking questions. Do you have kids? Do you entertain? What is it that you want to get out of this space? This helps us build a shared vision and define the homeowners' true needs.
I find it helpful to put myself in the shoes of the homeowners and approach it from their perspective. Forward-thinking is essential and one of the biggest things I try to implement in any of my jobs. Genuine interaction and a two-way dialogue are the most important things that build trust and confidence, and you can't take that for granted.
SL: That two-way dialogue really does build trust and confidence. As a homeowner, you have to be open to the fact that you hired this team because they have a specialty and expertise that you don't. The ability to have open conversations when the vision may not align with what's feasible, and to share alternate possibilities, really put me – and I'm sure, every other homeowner – at ease.
Thinking back to your previous projects, are there any favorite ones that come to mind?
JT: There are quite a few projects that I've really enjoyed working on, but one really stands out. It was my first job, and I arrived twenty minutes late with my truck and wheelbarrow. The homeowner was worried, and I should have called ahead to warn her that I would be late. Needless to say, I had a lot of room for improvement.
Long story short, I did end up earning their trust and worked for them for twelve years. We still talk on the phone to this day, and they're like an extended family to me. But it all started out with, "Jacob, can you come and take a look at my fountain because it's not working." From there, it grew to jobs like paving the driveway, redesigning their whole waterside property, and even creating a ravine with a creek running through it. The work was just over the top, fun stuff and was an opportunity that doesn't come along too often.
What's one thing you take with you into every project?
JT: It's not every day that your phone rings, and you get an opportunity to make someone's dreams come true – but that's what we get at Dreamscapes. No matter how big or small a project is, I treat every job the same way because I respect and value the opportunities we get.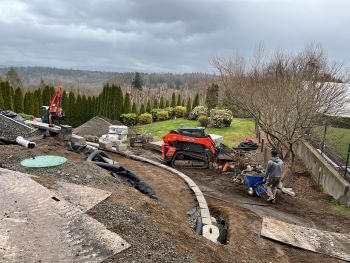 I always start off a project by inviting the homeowners to keep an open mind. Timelines change and challenges arise, and that's just the reality of our work. Thankfully, our clients generally understand the need for flexibility. They just want us to turn their vision into a reality, even if there are some bumps or obstacles along the way.
SL: Part of it is also just getting the job done right. Jacob, I love that you set the expectations that things aren't necessarily going to run on a strict schedule because there's so much that's out of your control. Ultimately, if you're building a landscape that's supposed to last forever and truly impact your clients' lives, that's what really matters, rather than simply rushing the job for the sake of a tight deadline.
JT: The other thing that most homeowners understand and appreciate is the artistic value of our work. For example, when I was working on Shilo's home, we were both on the same page about new opportunities and ways to improve the project. It was fun, and we were able to accomplish something great because I completely understood her lifestyle and what she wanted to get out of her home.
How do you maintain your skills and keep up with the latest trends and materials?
JT: Dreamscapes attends a national competition each year in Kentucky. Oftentimes we'll go just to learn more about the newest materials and styles and network with other landscape companies. Sometimes, though, we'll have the opportunity to secure a sponsorship and compete at the event. It's always a great feeling to be recognized and represent a company in a national competition like that, and it typically leads to some great opportunities down the line.
Another thing I do is pay attention to what other landscapers and companies are currently working on. I'll often visit their websites and check out their portfolios and recent projects, which is especially helpful when a homeowner comes to us and says they want a specific style.
What are a few examples of the different projects you take on? Is there currently a popular trend you're seeing more frequently?
JT: At the moment, porcelain is the new thing – we're seeing and building a lot more porcelain decks. Unlike concrete or wood decks, porcelain is thin and lightweight and comes in a million different colors and textures. It's really a win-win situation because if you're trying to match your décor or bring your aesthetic from inside to outside, you already have that sturdy surface that doesn't require any maintenance. It doesn't require any pressure washing, it doesn't require any Simple Green or other cleaners, and you never have to replace it. It's no wonder so many homes are transitioning to using the material.
You mentioned how Dreamscapes has different divisions of teams in different regions. Could you tell us a little more about your teams and how they're structured?
JT: We currently have nine people on our team, but that number can vary depending on the season. As the season expands and contracts, we'll take up to sixteen or seventeen people. Regardless of our team size, though, we always start with a team lead and technicians. At the end of the day, no matter what role you have on the team, each member has different responsibilities that can change as the scope of a project changes.
Dreamscapes is a small business, but we're always looking for ways to grow. I would love to expand into three or four teams in the north so we can take on even more projects in the future.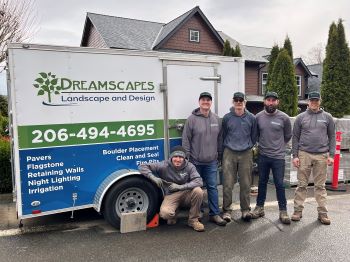 What is your approach to training and leading your teams?
JT: All my team members are trained through the International Concrete Paver Institute (ICPI), which is required for all employees of Dreamscapes. This gives them the opportunity to understand the industry standards – things like how much gravel to use, soil types, the parameters needed to make a project successful.
As for my leadership style, I think it's vital to build a relationship with each team member. I sometimes take them out to lunch, and we'll often just have conversations to learn more about each other. Each person is different, and not everyone has the same skillset, and I've learned to build my team around those unique skills. It's important for me to get feedback and be open and available to each of them. Having that genuine human connection not only builds trust and confidence with your clients, but it also strengthens your team.
Do you have any favorite (or more challenging) parts of your job?
JT: My favorite part of the job is creating and turning a vision into reality. Whether it's ordering materials or making sure everyone has a role to play, I take pride in my responsibility to organize all the different aspects of a project to ensure we're successful in making that vision come to life.
As for challenges, unexpected scenarios are always difficult to deal with. There are always going to be uncertainties and aspects outside of our control, and part of the job is just addressing those things and adapting to the cards that have been dealt.
How do clients find you?
JT: The reality is we don't do a ton of advertising, and we never have. Most of our work is based on word-of-mouth and referrals from previous clients. Aside from just loving to connect and interact with different people, that's one of the reasons I stress the importance of building relationships with our clients. If your work has a positive impact on someone's daily lifestyle and they're happy with the outcome, they're likely to want to share that experience with others – which is where many of our referrals come from.
For more information about Dreamscapes, visit www.landscapingisart.com.
To learn more about other professionals in CWM's community that serve as great resources and trusted partners, visit our professional directory.
Plan Intentionally
Schedule a complimentary, no-pressure phone call with a CWM financial advisor to learn if our breadth of consulting services and purpose-driven approach aligns with your needs.