Like Icarus flying towards the sun, high market valuations represent significant overconfidence, which in the past has preceded lower and sometimes negative market outcomes. Negative catalysts like higher inflation and taxes have the potential to cause a sharp reversion.

Much like the myth of Icarus' wings burning as he flew too close to the sun, we're exploring of the potential effect of higher taxes, higher inflation, and higher market valuations. All of these present unique risks, begging the question: how high can we fly without losing our own metaphorical wings?
The tale of Icarus echoes of one of our core investment philosophies here at Comprehensive Wealth Management – expensive things (higher market valuations i.e. flying too close to the sun) are dangerous, and protecting against downside loss is more important than chasing upside potential. We explored this concept in our most recent Thirdly, against the backdrop of our current financial landscape.

Higher taxes. In Washington state, two new taxes go into effect in January 2022: The WA State Capital Gains Tax and the WA State Long Term Care Act. The Capital Gains Tax is a flat 7% tax rate on Washington residents' long term capital gains in excess of the standard deductions (of $250,000) and exemptions. The categories that may be exempt are notable, including real estate, retirement accounts, certain livestock, and others. The other change we'll see comes to us in the WA State Long Term Care Act, which deserves a blog post all its own (read here). Currently, it is a 0.58% payroll tax intended to be allocated for long term care savings – with a one-time option to opt out of the tax before November 1, 2021.
Higher inflation. Inflationary fears remain high. However, as we explored in another recent article, we continue to believe it will be short-term. Many of the forces pushing inflation higher are transitory, like our ongoing supply chain issues, changes in consumer spending as the economy continues to re-open, employment issues, transportation bottlenecks, and more. Inflation levels will remain a topic of discussion for months to come as we continue to see shifts in these topics.
Higher market valuations. Higher market valuations now can be associated with lower future potential. Where you see steeper prices, you will often see increased probabilities of a steep drop-off. Again, we can visualize Icarus flying too close to the sun. The markets are expensive by almost any measure, as valuations have continued to climb over the last few months and valuation vs. corporate earnings have surpassed levels even seen before the dot com crisis. (For more on this topic, check out our article here.)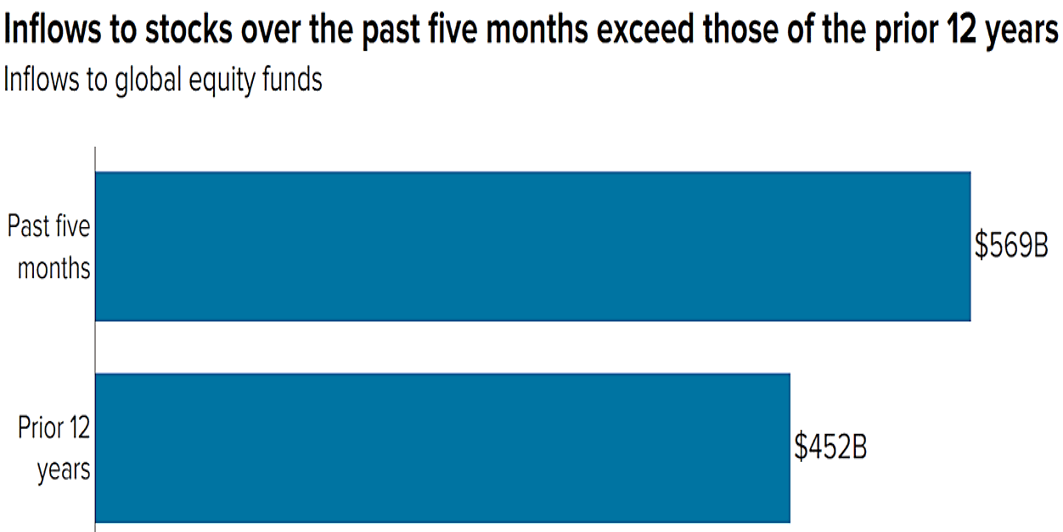 Source: Dumb Money & Smart Confidence. (April 30, 2021). Sentimentrader. Cox, J. (April 9, 2021). Investors Have Put More Money Into Stocks in the Last 5 Months Than the Previous 12 Years Combined. CNBC.
With all of these risks on the horizon, we're continuing to register what we're calling the financial equivalent of a hurricane warning. The CWM team will keep monitoring negative indicators, such as record-high valuations, abnormally high levels of greed, and high unemployment. The good news is that there are trends toward future economic improvement to watch as well. The economy is showing signs of being mostly recovered from the impact of COVID-19, with historically low interest rates, and manufacturing and service economies have strong rates of expansion.

If you're interested in speaking with a member of our CWM team how to prepare for the future while navigating this unique market environment, and how these events may be affecting your portfolio and long-term goals, please reach out to us. We're always happy to help at Comprehensive Wealth Management.
Plan Intentionally
Schedule a complimentary, no-pressure phone call with a CWM financial advisor to learn if our breadth of consulting services and purpose-driven approach aligns with your needs.