Knowing where you are in your financial climb will help discern the tools and tactics needed. For the wealth-preservation focused, current data suggests defensive positioning is prudent while awaiting lower-risk opportunities. For accumulators, stick to the current allocation and keep contributing.

When embarking on any expedition, it's critical that you arrive at the trailhead prepared with the appropriate gear and tools. Climbing Mt. Rainier? Wear warm layers and bring a compass (among many other necessities, of course). Going on a Caribbean cruise? Don't forget your swimsuit. And you certainly wouldn't want to mix up the packing lists for these two trips.
Similarly, when planning for your financial goals it's important to keep in mind the path you're on and where it's headed. What equipment will you need to support the climb? Clearly identifying your goal allows you to take intentional actions and make decisions – such as what equipment to pack – so you can effectively reach your summit, what living richly means to you.


In our most recent Thirdly, we shared a reminder of CWM's core philosophy that downside protection is more important than capturing all of the upside. In other words, we believe that if you're nearing retirement, your focus should remain on limiting market losses and preserving your assets rather than pursuing major gains, as large losses are more difficult to replace in a short timeframe.
With this concept in mind, here is an overview of the key topics and insights we discussed.
• Multi-generational planning. It's never too early to bring multiple generations into your family's financial planning discussions, especially as the oldest generation reaches their later years. Make sure everyone knows the location of your accounts and insurance policy information, passwords, health care directive and estate documents, and also understands their role in managing these items when the time comes. If all family members are aligned on what you have, why you have it, and where they can go for support, your loved ones will be spared a headache during an already difficult time down the road.
• Path to recovery. Since January, three COVID-19 vaccines have received FDA Emergency Use Authorization (EUA), resulting in the vaccination of more than 84 million Americans and millions more joining the pack each day. New cases, hospitalizations and deaths also continue to decline. From an economic perspective, what's most important is that we are starting to see increases in overall consumer spending, including in hard-hit industries like travel and restaurants. This trend indicates that our economy is on a path to recovery, albeit a slow and steady one.

• Interest rates. The CWM team has been closely monitoring this key metric throughout the pandemic; at one point we were seeing all-time low interest rates for 30-year mortgages. Currently, rates have risen back up above 3%, so many think they've lost their chance to refinance—but that's not always the case. Remember, even a 1% rate difference can equate to a 14% difference in the regular payment amount. In a future blog post, we'll be diving into more detail about what's behind fluctuations in interest rates and the potential impact on inflation. In the meantime, feel free to reach out to us if you'd like to discuss whether refinancing your home at this time may be beneficial.

• Hurricane warning. Similar to Q1 2020, we are once again in a position of "a bug looking for a windshield." This means the markets remain fragile, and our CWM team is concerned about the possibility of a large market selloff as we saw around this time last year. Stock valuations continue to reach record highs—in fact, the data suggests that our nation's current production / capitalization levels are only half of what the valuations reflect. In addition, the GDP has fallen far below normal levels and 20 million people are still facing unemployment, with government benefits now accounting for nearly 20% of total personal income. So, the major question on everyone's mind is, now what? If our country continues along the current economic recovery path, will future stimulus packages be justified? If the answer is no, the implications could have a considerable impact on stock value and consumer spending. Overall, the name of the game right now is preservation. Just like summiting a mountain, the greatest danger lies at the top—there's nowhere to go but down.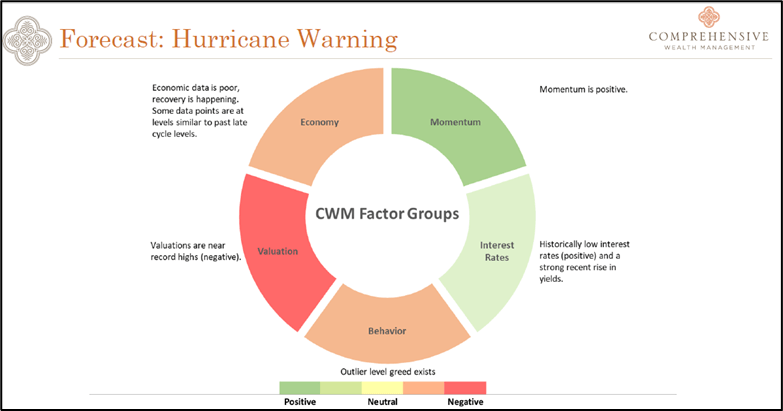 If you're interested in speaking with a member of our CWM team about the volatile market conditions we've experienced over the past year, and how it may be affecting your portfolio and long-term goals, please reach out to us. We're always happy to help.
-------------------------------------------------------------------------------------------------------
CWM Clients: If you were unable to attend the Thirdly webinar or would like to see it again, please click here to access the recording. Please note you will need to login to your secure client portal for the password to view the recording.
Plan Intentionally
Schedule a complimentary, no-pressure phone call with a CWM financial advisor to learn if our breadth of consulting services and purpose-driven approach aligns with your needs.