Starting Strong: Prepare for the Future Today
Starting Strong is a program designed to provide a solid foundation for clients at the outset of their professional careers, who understand the decisions they make today can have a lasting impact on their futures. CWM's team of financial advisors will work with you to establish short-term and long-term goals, portfolio milestones, and an actionable game plan for designed for success.
Though CWM partners with a diverse range of clients to pursue their lifestyle goals, the Starting Strong program is specifically designed for those typically between 22 and 40 years of age who are in the wealth accumulation stage of life. With CWM as a financial planning partner, young professionals are empowered to focus on building their careers, growing their families, or pursuing other lifestyle goals while also strategically planning for the future.

The Early Bird Gets the Compound Interest
Thoughtfully saving and planning early gives you a tremendous advantage later in life – thanks to long-term compound interest. The graph below from Business Insider illustrates how a young investor who begins saving $500-$550 a month at age 25 will end up putting a total of $144,000 into her account by the time she is in her late 40s, and will end up with a balance of $460,000 when she's ready to retire at 65.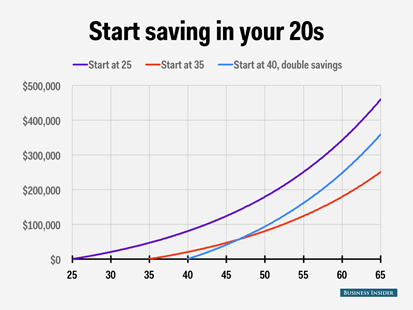 By starting young and developing the habit of consistent savings, you are able to take advantage of the power of compound interest.

* The chart above is a hypothetical example and is not representative of any specific situation or investment product. The hypothetical rates of return used do not reflect the deduction of fees and charges inherent to investing.

Start Strong
Start Today
At CWM, providing exceptional service drives everything we do. We've worked hard to create a purposeful client experience focused on responsiveness from a team of advisors and empowered, engaged professionals who are completely invested in your success.
We launched the Starting Strong program after working with clients and families for many years, and seeing the need as our clients' children entered adulthood to help them navigate toward their own financial independence. Whether you're a parent of a young adult or an emerging professional yourself, CWM is here to help guide you on a path towards living richly.
CWM brings experience, dedication and a friendly touch to every client interaction, starting from the moment we connect with prospective clients. If you're interested in joining our Starting Strong program, please reach out to schedule a complimentary phone call, no commitment required.
Start Your Plan
Schedule a complimentary, no-pressure phone call with a CWM financial advisor to get started today.