Wall Street Focuses on the Debt Ceiling
Wall Street has shifted its attention to Washington's budget negotiations and how the debt ceiling will be resolved.

Would it surprise you to hear that investors have moved past worrying about inflation? But how long will that shift in focus last? As you can see from the accompanying table, 100% of people surveyed by JP Morgan anticipate it will get resolved in the next few weeks.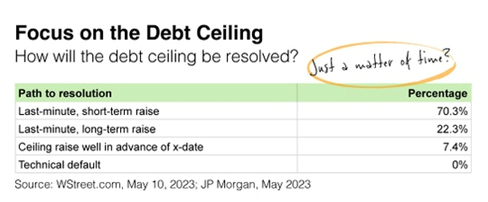 So after Wall Street moves past the debt ceiling, what's next?
Attention may refocus on inflation and the Fed's monetary policy. As you can see from the other table, that's what 25 institutional investors surveyed by the New York Fed ranked as one of their top concerns for the next 12-18 months. But banking-sector stresses and the U.S.-China tensions also could come into focus. Or maybe attention will shift to real estate. Or perhaps Russia-Ukraine.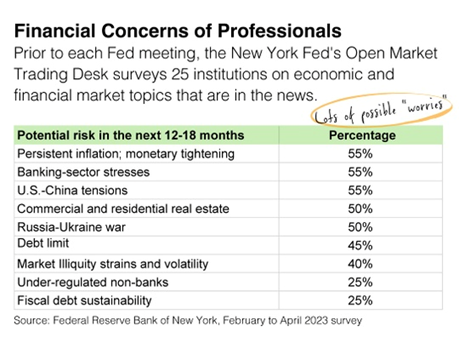 Do you see the pattern?
Wall Street always has to have something to worry about. That's where the expression, "Wall Street climbs a wall of worry" originated. It means financial markets continuously navigates an endless stream of economic and political uncertainty.
Your CWM Team is monitoring the debt ceiling negotiations and keeping an eye on how the Fed is managing inflation with its monetary policy. Political brinkmanship around the debt ceiling may cause some short-term market volatility, as it did in 2011, but we do not feel this is an event that warrants a change in investment strategy at this time.

*This material was prepared by FMG Suite and does not necessarily represent the views of the presenting party, nor their affiliates. The information herein has been derived from sources believed to be accurate.
Plan Intentionally
Schedule a complimentary, no-pressure phone call with a CWM financial advisor to learn if our breadth of consulting services and purpose-driven approach aligns with your needs.