The Importance of Board Diversity: Careers and good decisions flourish with new faces at the table
We are in a meaningful time of momentum when it comes to diversifying the makeup of board rooms that have remained stubbornly homogenous for centuries.

In spring 2021, Washington state leaders approved a new law aimed at fostering greater gender diversity on boards, requiring companies headquartered here to show that 25% of their board members self-identify as women – or submit a plan of action if they don't. Months later, the Securities and Exchange Commission approved a NASDAQ policy requiring that the boards of companies listed on the exchange include at least one member who identifies as a woman and one who identifies as an LGBTQ person or as an underrepresented minority.

Amid these state and national milestones, our Shilo Lockett recently participated in a discussion led by independent director and internationally recognized governance expert Elizabeth Bastoni, who spoke to the benefits of greater female representation on boards. Bastoni's talk, delivered to members of newly formed group The Table, focused on diversity of thought and experience – across gender, ethnicity, culture and skillset – as a catalyst for creativity, rigorous discussion and ultimately better decision-making.
This month, we dive deeper into the topic with Lockett and with Lisa Clarke, founder of The Table and Senior Managing Director of the Seattle office of NextLevel (recently acquired by E78 Partners), who herself has nearly two decades of expertise on nonprofit and for-profit boards.
Here, Lockett and Clarke share key takeaways from The Table's discussion on what a board level journey looks like, plus their own experiences and hopes for the movement toward greater diversity amongst decision-makers.
Shilo, why this topic for a CWM newsletter, and why is board diversity important?
SL: As a female-led firm in an industry historically dominated by males, I'm keyed into how financial services, and the professional world at large, is evolving in terms of female leadership. I grew up in a household where I was taught that I could do and be anything – it frankly never occurred to me before adulthood that limitations might be imposed on me or others due to gender. In fact, as I expand my understanding of the challenges that underrepresented communities face, I recognize that many other young women – especially women of color – experience greater systemic barriers.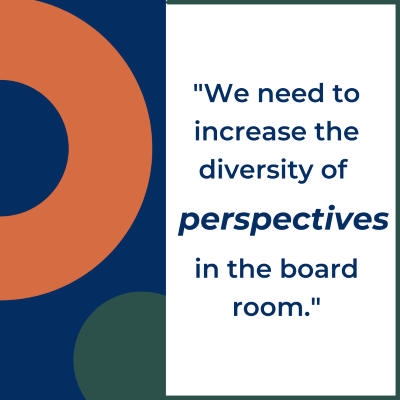 I'm also fortunate because I have generally felt camaraderie and support from my male colleagues – and have been lucky enough to work in environments and at a time in history where girl power has been championed by those who came before (thank you RBG). That being said, there's still more work to be done.
One of my favorite takeaways from Bastoni's lecture was the business argument for board diversity – so often the topic is broached as solely a moral or ethical one. To quote Elizabeth, "There's a lot of data that shows that more diverse boards perform better. I don't think this is because of the composition of the board. It's more that the composition is a symptom of something greater – curiosity and openness – which tends to result in diverse thought and more creative solutions. We need to increase the diversity of perspectives in the board room (race, religion, gender, socio-economic background, and more) which will lead to better decision making."
This isn't a case of man vs. woman (which I think is sometimes how these discussions can make our male cohorts feel). It's about how we can do business better through the advancement and opportunity of all, recognizing that everyone has talents, gifts, and unique perspectives we can leverage to become more effective in our organizations.
Lisa, what was your inspiration to launch The Table?
LC: It really stemmed from my own professional journey and the fact that all of my career opportunities have been rooted in mentorship. I have always been in a position to learn from other people – including Elizabeth who I first met at Women on Boards at the University of Washington – and really want to underscore how fortunate I am to benefit from great mentors.
That started early on, with the CEO who hired me out of graduate school. He always believed in me and advocated for me; he gave me opportunities to grow and learn in my career.
Then, when I was in a leadership position at a data storage company in the early 2000s, with around 1,600 people working for me, the dynamic shifted, and I was in a position to have many opportunities to elevate women. I found it really rewarding to play a role in transforming people's trajectories.
Last year, I was at a networking event, and someone asked, "When was the last time that you advocated for or helped raise up a female executive?" I realized that all my examples were 15 years old. I had transitioned to work in consulting gigs with startups and other companies, and proactively elevating other women wasn't as top of mind – especially when I didn't have as many direct reports.
I also noticed that in my current role, I was primarily working with men who held executive positions at client and partner organizations, but there would be these lateral female participants who were amazing! I would want to engage with them but there weren't always natural connection points in the context of our consulting engagement.
Because NextLevel works with so many great companies in different industries, we had a great platform for bringing these contributors together. We asked our center of influence (COI) partners – banks, accounting firms, law firms, and others – to invite their female clients to have seats at The Table – literally.
It's been easy to get people interested in a group that's a blend of up-and-comers, C-level executives, and board members. Our membership represents nearly every functional discipline – we have CFOs, a head of product management, chief human resources officer, heads of strategy and e-commerce at major brands in a variety of industries.
Some want to get to the C-suite, or maybe they are considering changing directions and moving to a different function altogether. Not every controller wants to be a CFO. We explore different perspectives and experiences together. We just welcomed a member from a marketing agency that is totally focused on diversity and outreach to underrepresented groups. It's a phenomenal win for us to have somebody with that mindset in the group.
And selfishly, I realized I hadn't been focusing on my own development as much, either. So this is an enrichment opportunity for me personally and professionally, too. Most everyone has kids, and we share our parenting experiences from our different life stages. I've really enjoyed watching these relationships form.
Shilo, how did you become involved with The Table, and what have you learned so far?
SL: A business attorney that I work with – a COI for NextLevel – nominated me for one of the seats, which was very gratifying, because I know she has access to a lot of other folks.
During my initial discussions with Lisa about joining The Table, what struck a chord was her use of the word "lift." Not only is the purpose to lift the women in the room up, but we're asking ourselves how we can take this spirit back to our organizations or boards and lift others, and that extends to everyone regardless of gender, ethnicity, etc. That is in my DNA. It also correlates directly with the approach we take at CWM, using our work to lift others.
For me, going to all these sessions is like brain candy. In late July, we held our first in-person event, and it was incredible – just the spirit and camaraderie that was in the room. And this is not 101 subject-matter. These are meaty, in-depth talks where we could spend a lot more time than we do, and we have access to folks like Elizabeth Bastoni, whom we may not get a chance to hear from otherwise.
Regarding Elizabeth's talk, starting at the very definition of what a board member does (or should do), Elizabeth mentions that when a Director walks into the board room, you should… "take off your management hat and put on your strategy and governance hat. The strategy is the 'what,' while management is about how to execute the 'what.' It's impossible to do strategy without management." Does that align with how you characterize the role of a successful board member?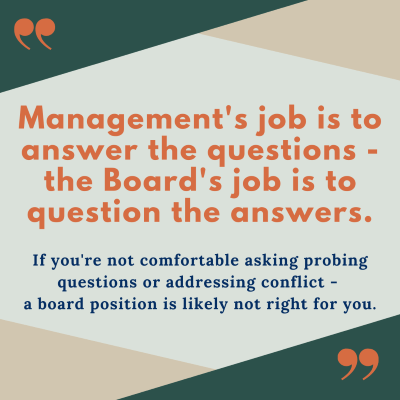 LC: She hit the nail on the head focusing on the distinction between the board's role and management's role. You can get into challenges where those lines are blurred, or a rogue board member dive-bombing into a management issue and trying to solve it. You can also have a bit of an overcorrection and take it too far in the other direction.
There's been more than one case where I have been on a board or involved in some fashion with a company and the board is not aware of a significant issue. That's incredibly dangerous because they have a fiduciary obligation; it's a level of risk if a CEO is not taking things to the board level.
It's an important line to draw – and a highly functioning board will understand where that line is. It's equally important for board members to understand their roles and for management to understand their responsibilities to the board. If there's a mutiny forming inside the company, rather than trying to hide that, you should seek the guidance of the board to help resolve it. If the board is oblivious to material issues inside the company, it's not going to work.
What has been your experience in terms of the level of diversity on the boards that you've served on, and how has that affected the board's collaboration and decision-making?
LC: Years ago, I was on a board that was not diverse and also not engaged; they would rubber-stamp everything that management presented to us. It was very frustrating. I believe that lack of diversity led to a lack of diversity of thought – and diminished outcomes. To foster diversity of thought, you need diversity of experience.
My experience on another board, FareStart, was the complete opposite. We had diversity of function, diversity of gender, of sexual orientation. And no surprise – we had very candid conversations that challenged the status quo. It was a safe place to do that. I thought it was flipping awesome. Even with such an incredible team of leaders, we still struggled to find as much racial diversity as we truly wanted when it came to board composition. The loudest voice in the room on that was Justice Mary Yu. She asked the tough questions on many fronts, and I will never forget her words: "We can do better."
There have been situations over the years where I was either the board chair or led the nominating and governance committees at organizations where not everyone on the board was contributing meaningfully. I had to shake things up a little bit and set clear expectations. When certain individuals don't step up, tough choices need to be made. Removing prominent leaders (from both the public and private sectors) from the board for "phoning it in" has not won me any popularity contests, but true leadership rarely comes from a place of desiring popularity. People in town know that if they want a rubber stamper, they shouldn't call me to fill a board seat.
SL: One of the main functions of the board is asking probing questions. So if you're looking for someone to not rock the boat, that's already violating a primary tenet of board service.
I was watching a documentary on Egypt years ago, and one of the historians identified that a key reason places like Rome, Egypt, and Greece went so far beyond other civilizations is that they were central points of commerce, bringing people from different backgrounds together. There was diversity of culture, with people picking up different ideas, and selecting and evolving the best from what they observed around them.
That's what we're talking about here. Board service is not about rubber stamping or checking a box on a resume – it's about driving an organization to be the best version of itself.
Have you heard any feedback in your circles about Washington's new law requiring 25% of board members to identify as female? What impact do you think it might have?
LC: I am experiencing and seeing, in my circles, movement toward complying with that in generally a healthy way.
I've probed around a bit to see if certain boards are just checking a box in terms of recruiting women. But I think the antiquated, frustrating thinking about women is going away because frankly, many people who hold that mindset are aging out of service now. It's the evolution of the fresher generations, or those who were raised with a more inclusive view. They are ultimately going to be the board members of the future – and the passage of time is in our corner, in that regard.
Is there a right or a wrong way to go about recruiting specifically for a more diverse board?
LC: My approach is to be candid about your diversity objectives. Have that conversation with the candidate right away.
Recently, I wanted specifically to invite a woman of color to The Table. I spoke to a COI, who gave me a list of people they wanted to nominate – all were highly qualified based on their professional expertise and accomplishments. And I immediately asked, "Which one of these candidates is a woman of color? Because all other things equal, she's going to be my top choice."
And when I spoke with the candidate, I just told her that up front – which I think she found refreshing. Diverse candidates are generally aware that you are calling them at least in part because you're trying to foster diversity on your board – and if you don't talk about it, that feels disingenuous.
I often say, "I am so excited to talk to you. Not only do you check all the boxes of someone who should be a part of this group, but you also help us round out these other areas that we really want to bolster."
I have found that 100% of the time, people don't find that offensive. As a society, we need to get better at that.
Elizabeth also mentions the importance of approaching board service from a place of expertise. New members should be prepared to add value, not join just "to learn from others." What guidance do you share with women who are considering joining a board?
LC: My advice is to align on a company or organization that you're actually passionate about. Show up every day with ideas and questions and the intent to truly engage. But also make sure you're not over-selling yourself to try to get a seat at the table if your skills don't fill a gap that they need. Otherwise, your input will be marginalized anyway.
For example, if the board already has an audit committee with financial people, don't duplicate that if it's not additive.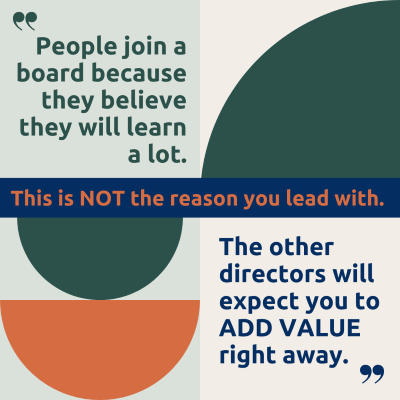 SL: As a younger professional, if someone invites or nominates you to a board, you feel complimented and excited. And often you say, "Well, I guess I should do it, and I believe I could make a positive impact." But then later, as you become more established, you really start to assess whether the organization is one that you care deeply about, which it should be because your time is valuable, and you can't do it all.
In years past, I was on a board for an organization that did not fully check that box for me – it was a great organization and had a great mission, but there are a lot of great organizations and great missions – and so I had to make the decision that it wasn't my priority. At this stage in my career and balancing family, when I next join a board, I know it's going to be something I really deeply want to be a part of.
I also think that sometimes, as women, it's hard for us to say no – but it's important.
LC: It is hard to say no. I totally did the same thing with the first board I was on.
How do people know what type of board – non-profit, or a private or public company – is right for them? Where should they start?
LC: Most people start with nonprofits because they are uncompensated positions, and the organizations are always looking for people. The big chasm is moving from nonprofit to for-profit. That first position on a for-profit board is hard to get. But once you do, then it's green field because especially now, companies are looking for great women to bring to their boards.
If we think about the hierarchy of board roles, the place to start is a small to medium sized nonprofit, advancing to large non-profit, then to a private company – perhaps as an executive board member first. Becoming an independent board member for mid to large private company or a small public company is a significant milestone. The top of the hierarchy is a large public company, and very few make it there.
If you want to eventually serve on a public board, start early. Each board tenure, if you're really committed, should be between four and ten years. If you're on for less than a couple of years, it's hard to get into the fabric of the organization. My board journey started in 2003, and I've made very deliberate choices to build my experience. Now, it's 18 years later and I'm still on the journey. But when I commit to something, I do it completely and then move along. That's what I plan to do with the next one. I'll report back.
SL: That point about intention is so important. Because if you want to accomplish something great, you have to plan. You have to break it down into pieces. It's not instant gratification, and you must recognize that doing anything awesome takes time.
From a time-management standpoint, how can women with multiple commitments, including kids, also fit into board service?
LC: It is not easy – I am always working on finding a balance. It's a real challenge right now because NextLevel just sold, and my role is broadening as I'm now part of a larger organization.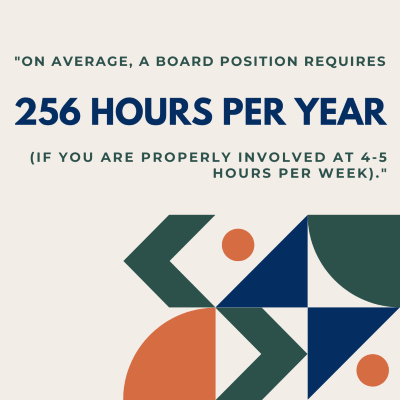 One of the things I find myself doing (and advise against) is setting the perception that I am always available. Answering emails in minutes, obsessing with my phone, not moving around enough…..Taking on everything has degraded my ability to take a step back and leverage upside and opportunities in some cases. But scarcity marketing is a thing – I am working on making myself scarcer and drawing boundaries.
Delegation is a piece of that, as well, but I'm failing a bit in that area. These are things I'm doing now to improve not only my performance, but my life.
SL: This summer, I saw Nicole Lapin speak at the Vistage Women in Leadership conference. She does an exercise where she puts women on camera and asks them to list the top five things they value most. She shared that never once has a woman she interviewed put themselves on the list. She had us do the exercise; it was true for all of us too. We need to put ourselves back on the list.
And I agree, Lisa, you need time to move and to not be on your phone. If you jump at every email, what expectation are you setting? You have to teach people how to treat you. Every time you have something in your work calendar penciled in for you, whether it's lunch with a friend or a quick walk around the block, follow through on that. Here at the office, we do a mid-week yoga stretch over lunch. If I'm willing to bump that because someone needs a meeting with me (and yes, it happens), then I'm not putting myself on the list.
Time and availability are key reasons that I have turned down a couple of more recent external board opportunities. I came back and answered them honestly: I would do a disservice to them, my family and other commitments if I tried to fit board membership in right now. I know that it's just for now, not forever, and that ability to say no comes from thoughtfully identifying and living toward my own goals and values set.
From a selfish standpoint, why serve on a board? Can you speak to the professional, leadership, networking, or other opportunities?
SL: When you serve on a board for a company or non-profit, you've already started with a common thread, which is that everyone is generally there to make a difference and further the mission and needs of the organization. I've always been drawn to be in a room with other folks who have a wealth of knowledge and perspectives different from my own.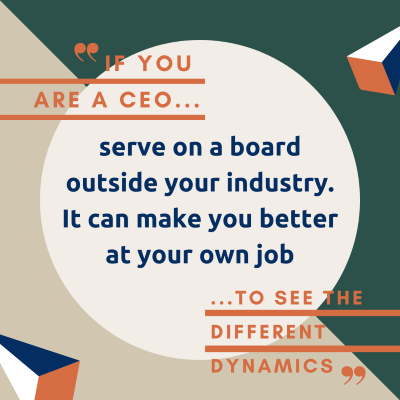 That's the best way to learn something new. It can be a springboard for fostering connections and deeper relationships and provides opportunity to learn from or observe how other professionals think about an issue. There's always something I've been able to bring back and use to improve my own organization. It's also gratifying to be able to make a noticeable contribution to a decision or discussion, to feel that you have helped move the needle a little bit.
LC: To this day, when I think about the FareStart board, I think about the trust relationships that I built there over nine years there. Serving on a board, you have an opportunity to learn about 18 to 25 people and their approach to leadership, because you have a stage to demonstrate how you approach decisions. Everyone on the board does. And then those people serve as a resource for you, perhaps for the rest of your life, as you all continue to move from company to company.
Board membership creates personal opportunities to seek guidance or input when needed from subject-matter experts. When working with that many people that closely for that amount of time, the trust and value of that exposure and trust pays dividends for decades.
Plan Intentionally
Schedule a complimentary, no-pressure phone call with a CWM financial advisor to learn if our breadth of consulting services and purpose-driven approach aligns with your needs.