Shelf Indulgence: The Sunday Philosophy Club
Fall is my favorite season. I love the crisp, blue-sky days. I love the smell of falling leaves and the sound of rain on my roof. I especially love finding a good book and snuggling onto my couch with a cup of vanilla rooibos tea and my dog for an adventure, a mystery, or a love story. Here in the office we have a group of voracious (when we have the time) Readers. Hardly a week goes by that doesn't have us swapping recommendations and then quickly requesting the book on the library app. Escaping into a well-crafted story is one of the ways I live richly, and it would be my absolute joy to share my book journey with you. Welcome to CWM's brand-new feature: Shelf Indulgence.

Sometime in the late Spring the office Readers decided to form a book club. We couldn't leave the house, were craving connection, and all have a common love of stories. One of the first books we read was The Sunday Philosophy Club by Alexander McCall Smith. This book is perfect for a cozy Fall afternoon. It is a gentle and lovely mystery, with characters that feel like old friends. It tells the story of Isabel Dalhousie, amateur sleuth, editor for a journal of applied ethics, and leader of the Sunday Philosophy Club (a group that has never actually had a meeting). Isabel's idyllic Edinburgh days consist of crossword puzzles, attending concerts, solving the errant mystery or two, and resolving existential questions about everyday life. Her philosophical musings on moral obligation draw her into a quasi-mystery when she witnesses the death of a young man. The book is billed as a murder mystery, however I would quantify it as more of a character study with an aroma of suspense.
The cast of characters does not disappoint and they are written with an appreciation for the human condition. While the book was slow to start at first, as I read it, I found myself pulled along on the current of the characters' aspirations and motivations. McCall Smith paints a watercolor world of everyday life and relationships. If you're looking for a grand reveal at the end you won't find it, but that makes this story all the more endearing. Isabel wants to do what is best, what is right for the people she encounters on her journey and at the end of this book I sat back, took a sip of tea and sighed contentedly. It's rare that I find a book with such charming characters that makes me wish there was more story to be told. Luckily (and perfect for pandemic reading) The Sunday Philosophy Club is the first in a series of novels starring Isabel Dalhousie and her philosophical contemplations.
Dear Readers: we are always on the lookout for the next amazing read. If you have a book recommendation you would like to share or would like to discuss The Sunday Philosophy Club visit us on our Facebook page.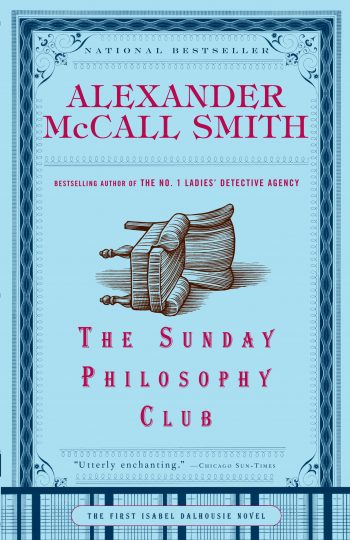 Plan Intentionally
Schedule a complimentary, no-pressure phone call with a CWM financial advisor to learn if our breadth of consulting services and purpose-driven approach aligns with your needs.