Seeing Through the Eye of the Storm
As we move into the sixth month of the battle against COVID-19, we still have much to face as the hurricane rages on around us.

Shortly after the pandemic began, we shared an update to our clients that we had been anticipating a major test of our economic system, and steps we had taken to help protect their wealth and savings.
CWM's previous move to defensive positioning in August of 2019 helped client's in our risk-managed portfolios avoid the ~34% selloff in March of 2020, when valuations plummeted across pretty much all asset classes. This allowed us to buy in near the lows of the selloff; clients can observe for themselves the results of those activities in their most recent year-to-date consolidated performance report. CWM's offensive strategy has produced excellent results for Q1 and Q2, keeping CWM clients sheltered in the eye of the storm.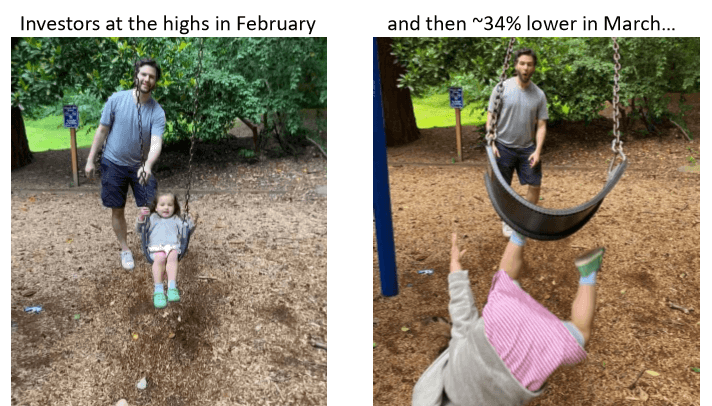 *No children were harmed in the making of this photo

As we move into the sixth month of the battle against COVID-19, we still have much to face as the hurricane rages on around us.

At the end of July, we (virtually) connected with clients and friends in our Thirdly series to discuss updates on the current market outlook and economic circumstances, gaining insight from economic indicators and historic trends. CWM's Chief Investment Officer, Morgan Arford, summed up the event with this Twitter-worthy executive summary:
"Massive forces are battling each other for economic supremacy; no one can be certain of the ultimate outcome. In that environment, portfolio exposures should seek balance between aggressive and defensive positioning while investors remain fluid in their views as events unfold."
Here's an inside look at the most pressing topics Morgan and Brian examined in the July Thirdly, "Defense Takes the Field":
Why has the market performed well in recent months despite the negative economic data points that have emerged throughout the pandemic? Several forces have shaped the Q2 market response, most notably those stemming from government policy. For example, the Fed printed more money in three months this year than it did in the six years following the 2008 recession; the government enhanced unemployment benefits by $600 per week for those affected by job loss due to COVID-19; and the 30-year-fixed mortgage rate is at historic lows. These examples represent only a few elements that – up until this last week, when the additional unemployment benefits expired – served as a temporary stop gap for the economy.
Does this mean the worst is behind us? Unfortunately, probably not. As hospitalizations continue to rise nationally and globally, we've seen several states rolling back initial reopening phases. There's no doubt about it: 2020 has been a record-breaking year in many unpleasant respects, including the highest unemployment rate since WWII; the highest Market Capitalization-to-Gross Domestic Product (GDP) ratio on record in February (just recently surpassed), followed by the worst quarterly decline in GDP since the Great Depression, and the highest rate of corporate bankruptcies since 2009. We'll be facing more hurdles in the near term before landing on a stable path to recovery.
Is it possible for individual portfolios to perform well even in a market downturn? CWM clients have not been hit as hard by the market volatility this year; in fact, all of our clients have actually evaded any major losses and, thus far, CWM has had one of its best years in firm history. We were able to steer clients into the eye of the storm by moving to a defensive position from the fall of 2019 through early 2020 and then our offense took the field after the selloff in March. Moving forward into Q3, we have reduced market correlation in our risk-managed portfolios, but not entirely to try and allow some upside participation should stocks markets continue to rise.
As we look around us at the tumultuous seas of 2020, CWM recommends exploring additional defensive measures while waiting out the ongoing storm, such as creating or expanding upon an existing emergency fund, paying off a 401(k) loan, and refinancing a home if still employed (more to come on this strategy). As we hold fast to our life vests, CWM clients can rest assured that your financial planning team will continue to provide data and evidence to guide life's most important decisions.
CWM's advisors remain committed to partnering with our clients to pursue their ideas of living richly. If you're interested in learning more about CWM's approach during these uncertain economic times, please contact us online or at (425) 778-6160 to schedule a complimentary, no obligation phone call.
Plan Intentionally
Schedule a complimentary, no-pressure phone call with a CWM financial advisor to learn if our breadth of consulting services and purpose-driven approach aligns with your needs.