4 Tips for Navigating a Layoff
If you've been laid off, you may have more options than you think.

Layoffs rocked the tech world in 2022, and that trend shows signs of continuing in 2023. In this tech-heavy region of the Northwest, many of our clients and neighbors are feeling anxious around the tech and tech-adjacent jobs that until recently felt secure. We're here to help refocus that anxiety into intentionality.
If you find yourself with a career upset this year, try to look at it as an opportunity. That's easier said than done, of course, but with an adjusted perspective and some outside counsel, you can discover a silver lining to this bad season – and maybe improve your quality of life overall. Here are ways to plan for, and even take advantage of, an unplanned separation from your employer.
Rainy day funds provide time and options
At Comprehensive Wealth Management (CWM), we encourage all our clients to have an emergency fund of about 3 to 6 months' expenses. If you haven't been contributing to that fund regularly and you're still working, now is a great time to start. Combine those funds with a severance package, investment accounts, health savings accounts and unemployment benefits, and you may not have to jump back into the job market right away.
In fact, times of unemployment provide good opportunities to take a holistic look at your overall satisfaction with your work-life balance, giving you time to evaluate your priorities, and consider the pros and cons of other possibilities.
These possibilities could include:
Taking a gap year.

Treat this time like a sabbatical and focus on resting, recharging, and investing in yourself. That might mean traveling, adopting a new fitness routine, dipping your toe into other industries, developing a hobby, or simply enjoying quality time at home with your family.

Continuing your education.

Would an additional credential, certification or degree help you level up in your career? Are you considering another career path altogether? Maybe you want to explore your love of art history or photography that you put on the back burner while you focused on your career. This could be a great time to further develop yourself professionally.

Making a lateral move.

Think about adjacent industries and roles that you could step into with minimal training. This process might start with talking to people whose jobs or industries you find interesting. Or maybe you've been thinking about striking out on your own and starting your own business. This might be a great opportunity to pursue those ambitions.

Retiring.

Consider whether you need to go back to work at all. Or you could take a mini-retirement, like a longer gap year, to consider your options.
A financial advisor, experienced in long-range planning, can work with you to run the numbers and game out these options with you – they may be more attainable than you think.
A quick word of caution: if a layoff has caught you by surprise, you may not have the ability to build up a significant Emergency Fund in a short period of time, resulting in needing to access funds in your retirement account to cover short-term expenses, or you might have an outstanding loan on your 401(k) that needs to be refunded immediately. Both of these situations can result in significant tax issues at a time when there's already a lot of financial uncertainty, and they can undermine the benefits of tax-favored growth in the retirement account. Having an Emergency Fund readily available allows you the ability to avoid these types of difficult scenarios, and have more control over your financial picture.
What about my 401(k)?
In all the paperwork and emotions of a layoff, it can be easy to forget about your 401(k). There's no urgent requirement to take any specific action, so it often falls to the bottom of the list. And that's understandable. But when the time comes to make a decision, you have three basic options: Leave it where it is, transfer it to a new employer's 401(k), or roll it into an IRA or a Roth IRA.
If you're not sure you'll get another job right away, rolling it into an IRA offers the most flexibility and control – plus the opportunity to work with an advisor and weigh your options. An advisor can also help you ensure you're making the most of your severance package, such as stock options, restricted stock units (RSUs), and other employer benefits that might be useful. Each 401(k) option has its pros and cons, illustrated in the table below.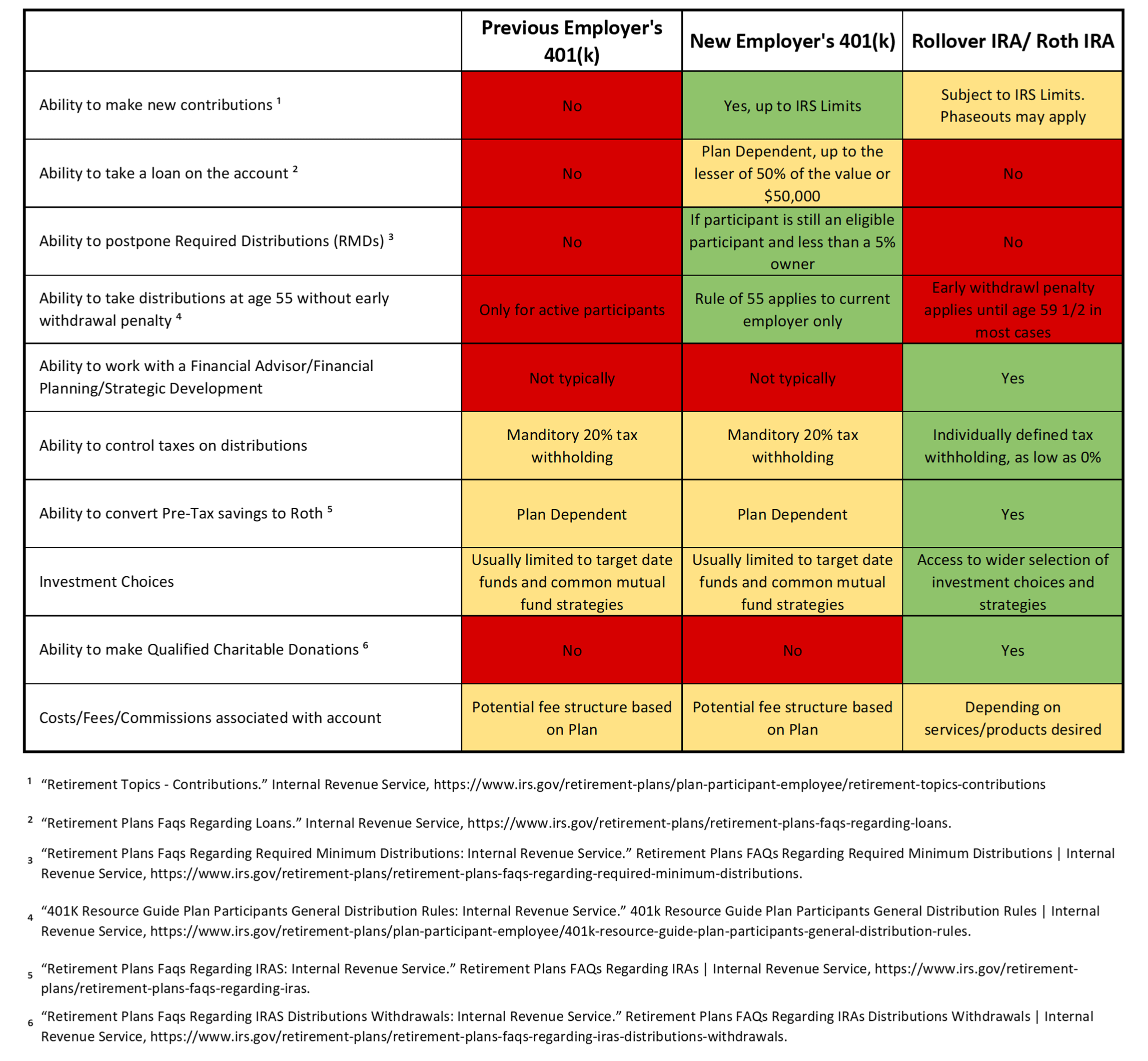 Taking the next step
It's possible to navigate all this on your own, but you certainly don't have to. A financial advisor can help you make the best choices for your retirement accounts, RSUs, and stock options, advise on the process of securing new health insurance and life insurance coverage, make sense of your health savings account or flexible savings account, and help you understand your unemployment benefits. Losing your job is stressful enough – an advisor can take some pressure off by digging into the financial details and ensuring you can explore all your options and make informed decisions.
At CWM, we've helped countless clients in the tech world navigate these and other financial challenges. If you've been laid off – or if you're worried you might be – our team is happy to help. To schedule a consultation, call (425) 778-6160 or complete this form.
*This material is not intended to replace the advice of a qualified tax advisor, attorney, and accountant or insurance advisor. Consultation with the appropriate professional should be done before any financial commitments regarding the issues related to the situation are made.
Plan Intentionally
Schedule a complimentary, no-pressure phone call with a CWM financial advisor to learn if our breadth of consulting services and purpose-driven approach aligns with your needs.