2022 Year-End Tax Reminders
Just a few helpful reminders regarding 2022 IRA contributions

Note: If you file your tax return prior to making your annual contribution, the IRS may require an amended return.
If you have an IRA or a Roth IRA, maximum contributions for tax year 2022 are:
$6,000 (Roth contributions may be less depending upon income. Please consult your CPA before making your contribution).
Age 50+: Catch-up contributions may be made up to an additional $1,000 for a total of $7,000.
While maximum contributions to IRAs and Roth IRAs have not changed since 2021, maximums for other types of accounts like 401(k)s and health savings accounts (HSAs) have changed for 2022. You can find full details here and illustrated in the table below.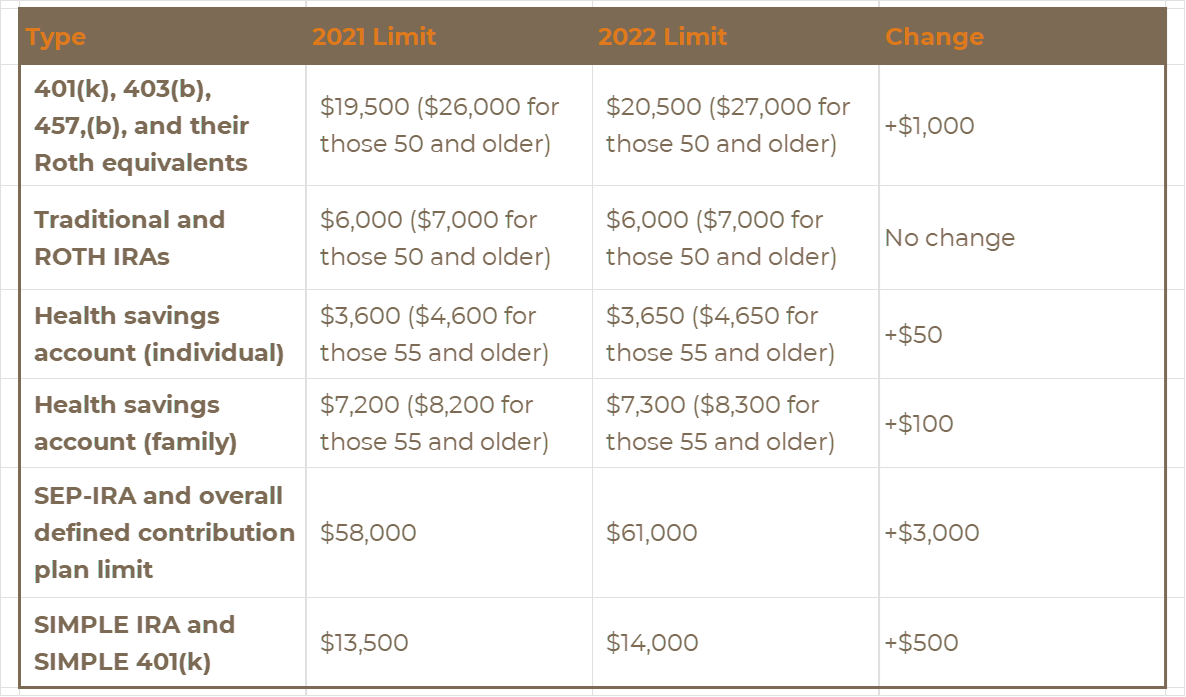 Important Reminders When Submitting Your Contributions
Make checks payable to "Charles Schwab & Co. fbo [your name]". Do not make your check payable to CWM.
On the memo line of the check write "2022 IRA Contribution" and include the 8-digit account number (see image below).

Not sure of the account number?

The Admin team can add that information to the check provided it is received by 3 p.m. on Wednesday, April 12, 2023.
For guaranteed deposit, your contribution must be received by CWM

no later

than 3 p.m. on Wednesday, April 12, 2023 to ensure that the check will be processed and placed into your account by the IRS deadline. (For more details on IRA contribution rules, see IRS Publication 590-A).
Contributions can be set up to be transferred from an individual, joint, or trust account held at Schwab. If you are interested in this option, call us at (425) 778-6160 or e-mail info@CWMnw.com.
The 2023 tax filing deadline is Tuesday, April 18, 2023.
If you have additional questions about your IRA, Roth IRA, SEP IRA, or SIMPLE IRA contribution amounts, please contact us or call (425) 778-6160 to schedule a time to speak with the CWM Team. We're always happy to help at Comprehensive Wealth Management!
*Neither Comprehensive Wealth Management nor Independent Financial Group (IFG) LLC offer tax advice. Please consult your CPA for specific tax questions.
Plan Intentionally
Schedule a complimentary, no-pressure phone call with a CWM financial advisor to learn if our breadth of consulting services and purpose-driven approach aligns with your needs.